REVITALYNK Body Wash
Regular price
Sale price
$28.00 SGD
Unit price
per
Sale
Sold out
Turn your everyday shower into an escape from reality.

No more chemical-filled body wash! What makes White Tea REVITALYNK Body Wash so good is how its thick, rich lather thoroughly cleanses and moisturizes at the same time.

Formulated with Lauryl Glucoside, a biodegradable cleansing agent of 100% vegetable origin, and Lactic Acid, the body wash generously lavishes your skin with all the gentle yet thorough cleansing that leaves you hydrated, refreshed without any drying effect and irritation. After each aromatic wash, dead skin cells are removed and your skin reveals a smoother and fresher appearance with improved firmness and balanced pH level. Smelling good comes easily after every shower.

SUGGESTED USAGE: Apply wash generously onto wet skin. Lather well and wash off. Lock-in moisture after your shower with White Tea REVITALYNK Body Lotion.
500ml

Notes

Top: Bergamot, Mandarin
Middle: Thyme, Jasmine, Ginger
Base: White Tea, Chrysanthemum
Ingredients

Aqua (Water), Cetearyl Alcohol, Paraffinum Liquidum (Mineral Oil), Amodimethicone, Phenoxyethanol, Polyquaternium-10, Methylparaben, Citric Acid, Cyclopentasiloxane, Benzyl Alcohol, Argania Spinosa Kernel Oil (Argan Oil), Butylene Glycol, Sodium Benzoate, Potassium Sorbate, Helianthus Annuus (Sunflower) Seed Extract, Hydrolyzed Silk PG-propyl Methylsilanediol, Fragrance
View full details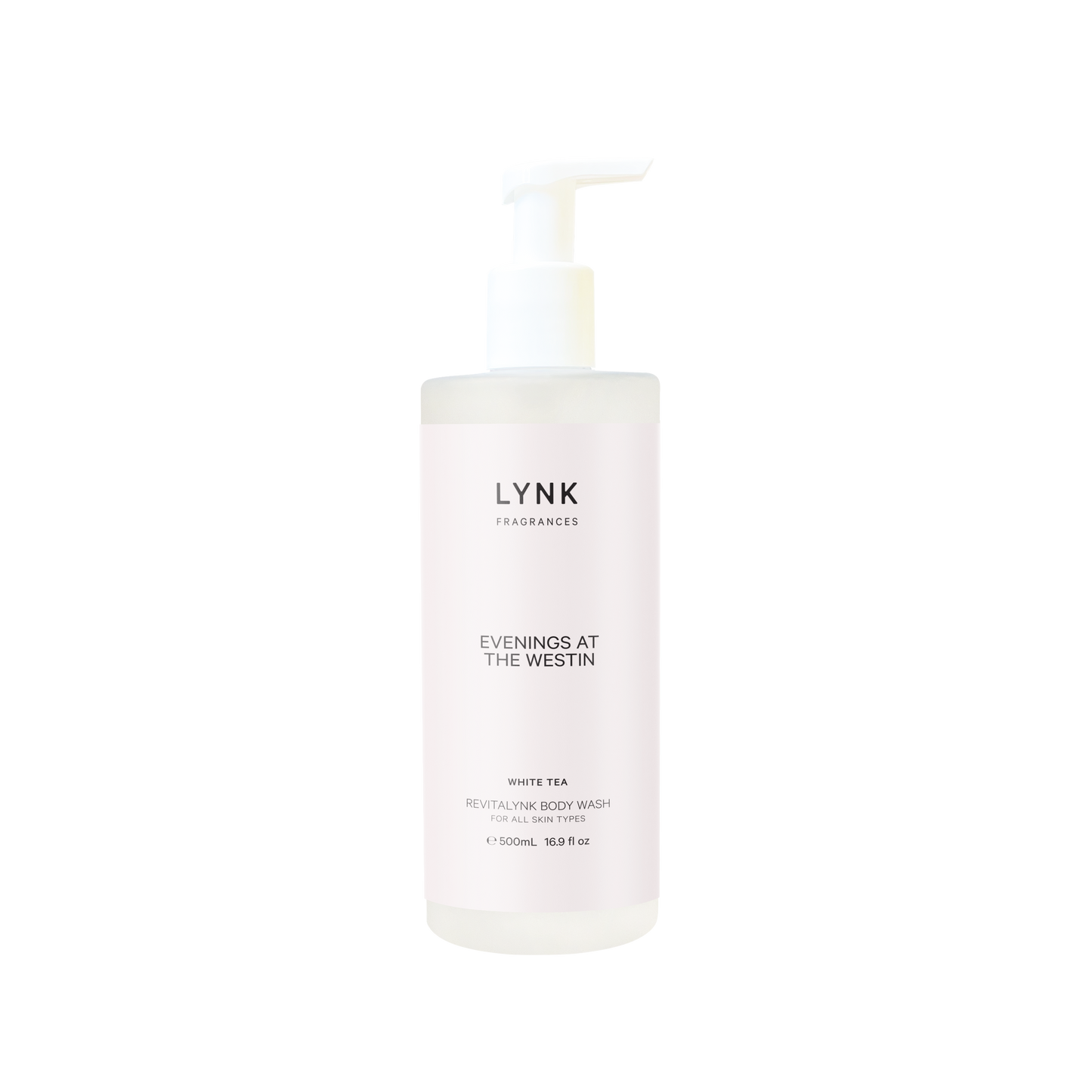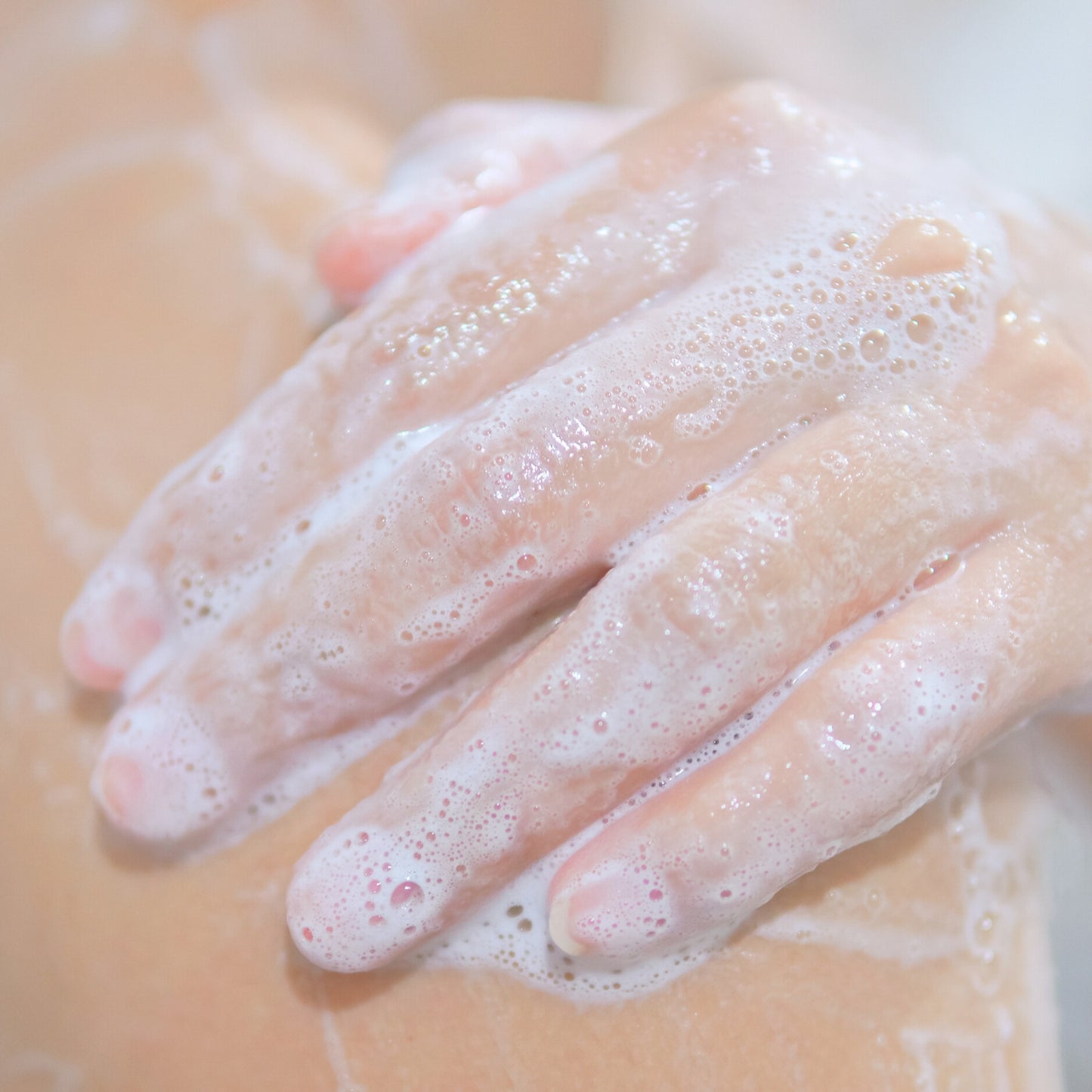 Luxurious & Lush
A scent that envelops you in the lavish ambiance reminiscent of stepping into a prestigious luxury hotel. With every whiff, the essence sweeps you away to the hushed grandeur of an upscale lobby, where time seems to slow down and worries of the day fade into the background. Carefully balanced with notes of sophistication, the scent offers you a personal invitation to relax and feel at home in the lap of indulgence.

Created to make every moment a reminder that you truly belong to a haven of tranquility.
Citrus

Bergamot, a popular citrus note offers an uplifting aroma that can evoke feelings of freshness, energy, and optimism. The scent of bergamot is reminiscent of sunny mornings and open spaces, creating a sense of revitalization and positivity.

Floral

With Jasmine as one of the ingredients, you get a delicate and enchanting floral note that evokes emotions of elegance and serenity. Jasmine is often associated with calm evenings and romantic settings, invoking a sense of relaxation and beauty. Jasmine adds a layer of sophistication to our scent concoction, making the scent reminiscent of gentle luxury.

Green

Thyme reminds one of fresh foliage and natural surroundings, allowing one to feel as though you are having a stroll through a serene garden, grounding and revitalizing your spirit. When curated into our white tea series, the green note enhances the overall feeling of rejuvenation and calm, offering a connection to the opulence of an upscale hotel visit.
INGREDIENTS THAT YOU'LL LOVE
Coconut Fruit Sugars

Derived from renewable plant sources and environmentally friendly, it effectively cleanses the skin, removing dirt, oil, and impurities without stripping your skin of its natural oils, making it suitable for use for any types of skin without causing dryness or irritation.

Glycolic Acid

The police of dead skin cells! It exfoliates and dissolves them without harsh scrubbing. It is also a magnet to bind water to skin cells, keeping your skin hydrated. Importantly, it inhibits growth of bacteria and helps with anti-aging, allowing your skin to stay healthy and youthful.

Milk Acid

A magician that reveals smoother skin! It promotes elasticity for the skin, helping to make your skin firmer. Enjoy a gentle skin makeover, where your skin feels fresher and revitalized after each wash.
Learn About What's Going Onto Your Skin
Who Is This Suitable For

Suitable for both males and females. Suitable for all skin types.
Ingredients

Aqua (Water), Sodium Laureth Sulfate, Cocamidopropyl Betaine, Cocamide DEA, Lauryl Glucoside, Polyquaternium-7, Lactic Acid, Tetrasodium EDTA, Methylchloroisothiazolinone, Fragrance
ONE WASH, FIVE ACTIONS
Refresh

Deep cleanses as it lathers, providing the much needed breath of fresh air the skin craves when all the impurities are removed thoroughly.

Exfoliate

Removes old and dead skin cells without any harshness, unveiling a canvas of newfound smoothness that feels gentle to the touch. and bright skin.

Hydrate

Maintains hydration, ensuring your skin does lock-in the necessary moisture to remain supple and firm, as well as the right pH balance throughout the day.

Protect

Improves the radiance to promote brighter skin and adds a layer of shield that helps protect against harmful environmental radicals.

Scent

Removes odour and grants an amazing smell, restoring confidence and evoke better mental well-being
*Based on customers' feedback and study
All feedback collected are by real customers and people. It may not reflect the typical consumer's experience and is not intended to represent or guarantee anyone or everyone will achieve the same or similar results.
Refreshing
It smells like vacation. Who doesn't love to wake up to vacation vibes in the morning?Leaves skin feeling soft and loving the smell.
Smells great
The whole bathroom is divine during and after a shower. It's my go-to after a long day.