Regular price
Sale price
$23.50 SGD
Unit price
per
Sale
Sold out
A nostalgic and enchanting Christmas scent, Under the Mistletoe is a blend of fir, amber, and cypress that brings back memories of the holiday season.
The top note of fir is bright and refreshing, while the heart note of amber is warm and inviting. The base note of cypress gives the scent its woody foundation.
Scent Notes: Fir, Amber, Cypress
-
Introducing our beautifully-crafted reed diffusers, the perfect addition to your personal space. Our diffusers are made with the highest quality essential oils, meticulously curated to provide an enduring and luxurious aroma. The perfect gift for a loved one or a treat for yourself, keep your home feeling rejuvenated and smelling like a hotel.  
50ML - comes with 5 reeds and 1 bottle of our diffuser solution. Lasts for 4 to 6 weeks.
Directions For Use:
Place the reed diffuser bottle on a stable, flat surface.
Remove the plastic plug carefully with a spoon, like a milo tin. Do not use your fingers as it is tightly secured and you may hurt yourself. Insert the reed sticks into the bottle. Start with two to three reed sticks. Add more to increase the fragrance intensity as desired.
Allow the reed sticks to absorb the oil before turning them over to allow the scent to be released. 12 hours of absorption time are required for the reed sticks to diffuse at its full potential. 
To intensify the fragrance, gently flip the reed sticks every few days. Do note that the more often the reeds are flipped, the quicker the rate of evaporation.
As reeds do get saturated and clogged over time, do swap them out for new reeds when their performance is compromised even after flipping them.
Keep the reed diffuser out of reach of children and pets. Avoid spilling the oil on furniture or other surfaces, as it may cause staining.
The scent throw of reed diffusers depends a lot on air movement. Your diffuser will get lonely, so place the reed diffusers in high traffic areas that will move and circulate the air. 
Smells Like

Smells like traditional scents of the Christmas season, evoking memories of decorating a Christmas tree.
Notes

Top: Fir, Cypress
Middle: Cedar
Bottom: Amber
View full details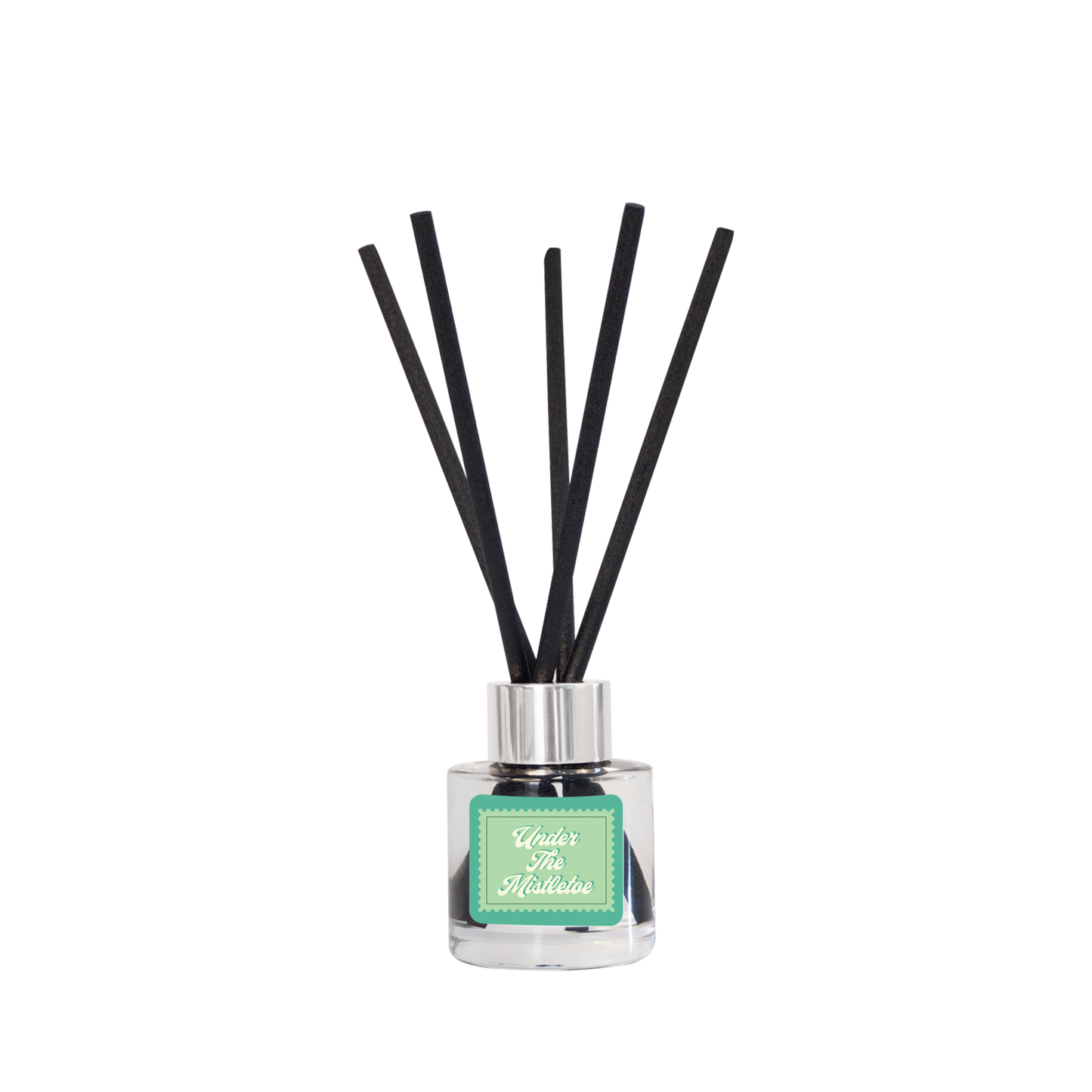 Nostalgic & Enchanting
Under The Mistletoe is like a loving kiss that melt hearts, whether it's sharing a joyous festive with friends or family. It is also a wonderful gift for anyone who loves the traditional scents of the Christmas season, evoking memories of decorating a Christmas tree.